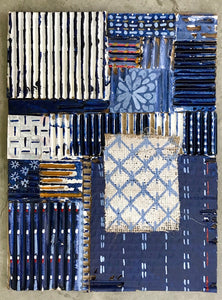 Mixed media designed and created by featured artist Emily Nomer (see Blog post).  Inspired by Japanese vintage Boro cloths these pieces are amazing!  Other works of Emily's can be seen at the QueenCity15 Fine Art Gallery in Poughkeepsie, New York, entitled Women,  starting Sept. 5, 2020.  This exhibition is to mark the 100th anniversary of women gaining the right to vote in this country.
Burlap, corrugated cardboard, painted with acrylic and gesso
9" W x 12" H
Unframed
Signed by the artist
Contact us for more amazing pieces from Emily!